How to choose the best rug sizes for your space
Although Persian rugs are incredibly durable, the dirt that's hiding in the rug will slowly dry out the fibers if not properly cleaned. This is because the soil and other contaminants deep in the foundation of the rug, grinding away at the wool and silk fibers every time you walk on it.  The brittle wool and silk have less durability, hand washing restores the fibers.
1. What is my design objective?
2. What size should my rug be?
3. Where should I place my rug?
Filter through by room
General Rule: If you're unsure about sizing, it's almost always better to choose the larger size.
In our experience you want to select the largest rug for your room, leaving about 1 to 2 feet of space between the rug and the exterior wall of the room. This helps to create the feeling of even more space causing the room to look and feel bigger.
We will always work with you to ensure you are getting the best rug for your space. If you choose a rug that is too small for you the space it will not only shrink the room but make the space less usable.
We understand that there are many exceptions but generally if you choose the larger option, we find that our customers are much happier than they would be if they went with a rug that was too small.
What is my design objective?
The design objective is up to you and how you want your room to function. You can use a rug as a statement piece and make it the focal point of your room or to unify the space. It all depends on the size, patterns and colors you choose.
Rugs can also be used to define or separate areas in your home. Using rugs you can separate the space in a living area, seating area, dining area and foyer. Below we provide different examples of how you can achieve different design objectives throughout your home.
What size should my rug be?
You'll want to use a measuring tape and write down the dimensions of the room and the size of the area where you want the rug. It is important not to guess at sizing by just looking at the space. You should also note whether there are any vents, floor inlays or doors which may affect the layout of the rug. You should also consider any furniture that you have or want to have in the room. Usually you'll want to have all of your furniture fit onto the rug, the exception to this would be the back legs of a sofa or any larger chairs.
Where should I place my rug?
In terms of placing the rug, you have a lot of different options. Below we have different guidelines for all the rooms in your home.
Living Room
When choosing a rug for your living room, you should consider what furniture you have in the room and take into consideration your different layout options. If you have an open plan, typically you want to use your rug to define the living room area.
Popular design options include:
Unified look
Common rug sizes for this layout: 8x10 or 9x12 or 10x14 or 12x18
In larger sized living rooms it's best to go with a 10x14 or 12x18. The rug should be large enough to have all of your furniture sit on the rug, including accessories and decor elements to give your space a more unified look. Make sure that the rug extends enough behind the furniture so that you can comfortably walk on it with two feet.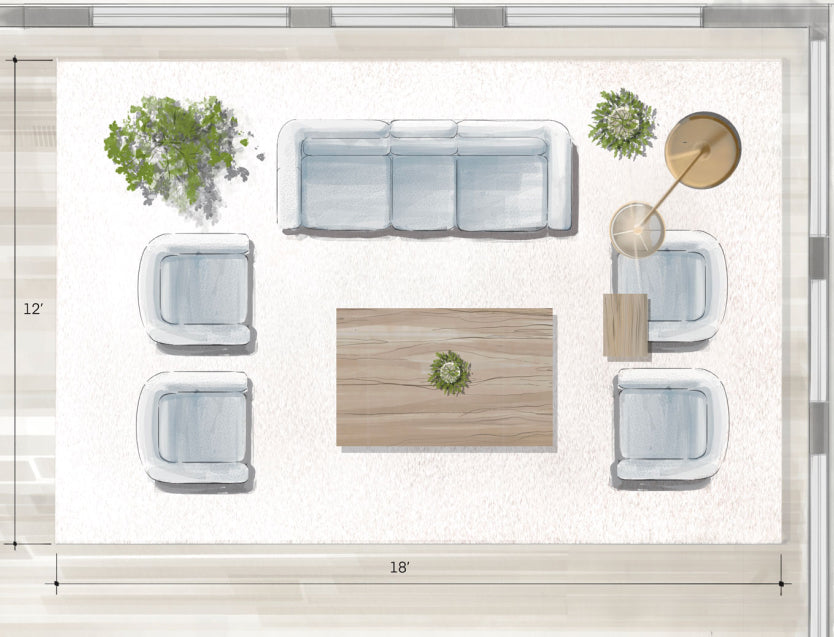 Defined Look
Common rug sizes for this layout: 5x7 or 6x9 or 8x10
A smaller rug, like a 5x7 can go in front of your sofa with no furniture on it or under a coffee table.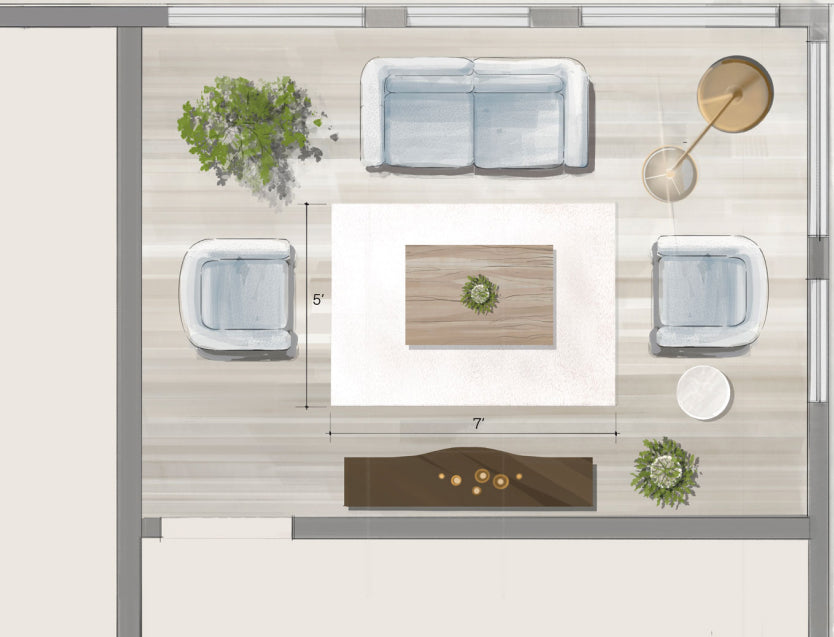 For larger rugs, like a 6x9 or 8x10 you should place the front legs of your furniture on the rug.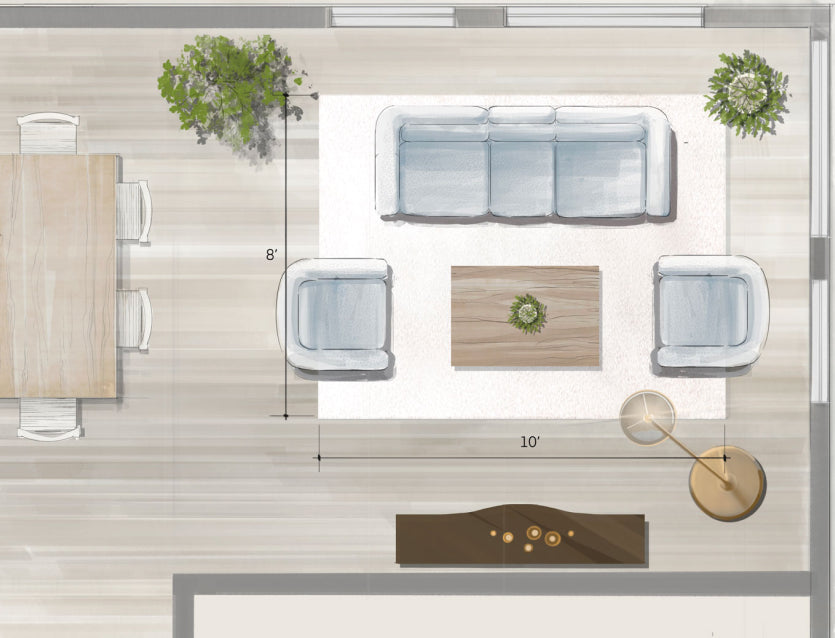 Small living room or Accent space:
Common rug sizes for this layout: 3x5 or 5x7
Smaller rugs can be used in the living room underneath a coffee table or to create a separate accent space within the room, such as a separate sitting area.
Dining Room
Common sizes rectangular: 6x9 or 8x10 or 9x12Common sizes round: 8' round or larger
In the dining room, there are two common choices for area rugs: rectangular and round. For either option you will want to make sure that the rug is large enough for the dining room chairs to sit completely on the rug when they are pulled out.
Measuring tip: Go to your table and pull out all your chairs like you are going to sit down. Take a tape measure just behind where your chairs are, this is the minimum rug size you would want.
Large Table (8 or more chairs)
Usually a 9x12 or 10x14 rug provides enough space for all the chairs to be on the rug even when pushed back.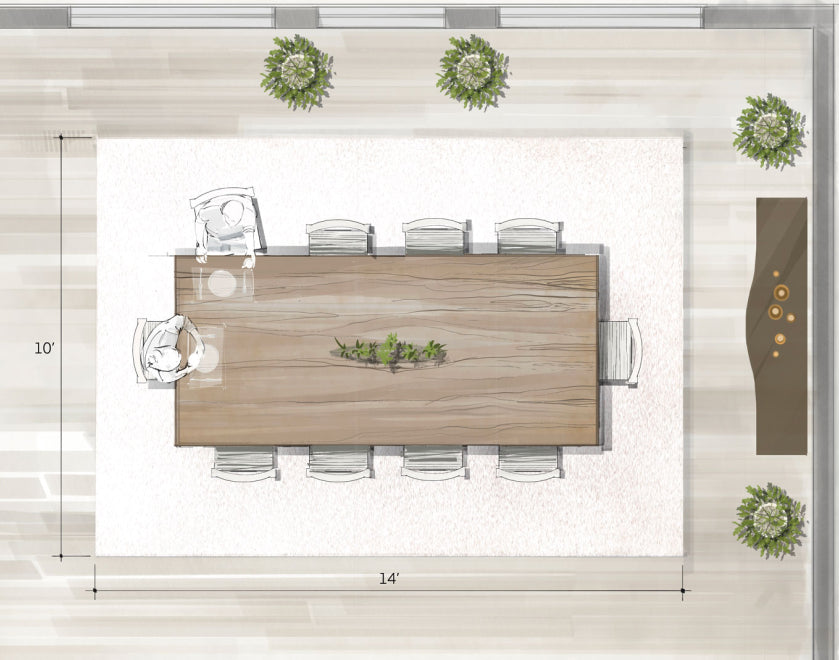 Medium Table (6 chairs)
Usually a 8x10 rug provides enough space for all the chairs to be on the rug even when pushed back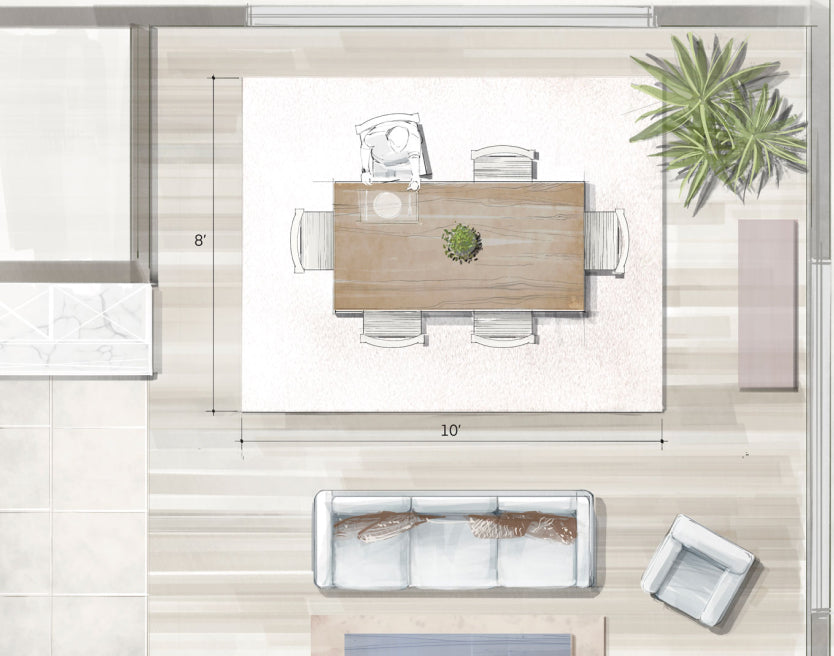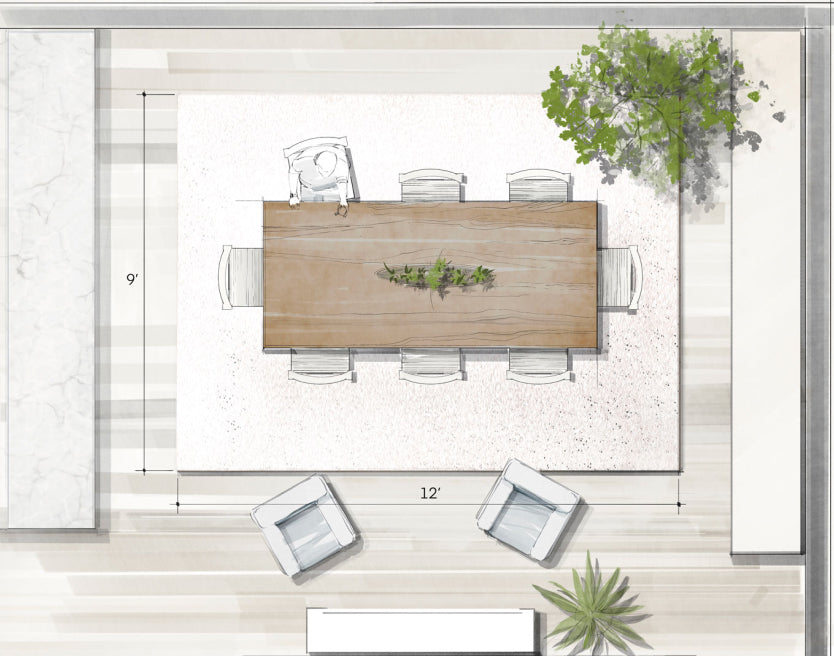 Small Table (4 chairs)
Usually a 8' rug provides enough space for all the chairs to be on the rug even when pushed back. Another option is to float the table in the center of a larger rug, such as a 8x10 or 6x9 rug.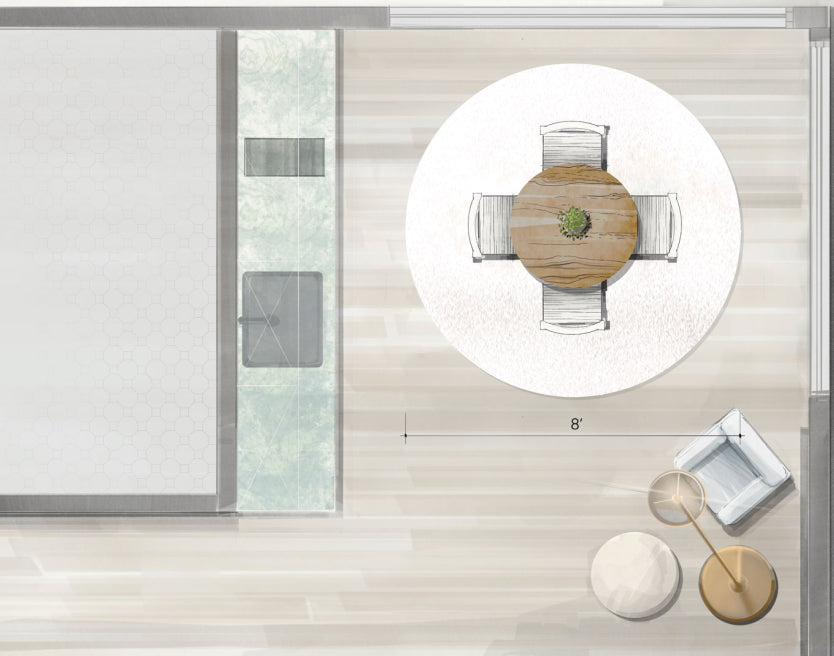 Bedroom
When choosing a rug for your bedroom you should consider the size of your bed and the rug placement. You will want to have between two to three feet of rug on either side of the bed. Typically, you either have the rug under the entire bed or you place it under ⅔ of the bed. Another design option is to have a small rug on either-side of the bed. The bedroom is a great place to incorporate a runner, if your bedroom is not large enough for an area rug.
Queen-sized Bed: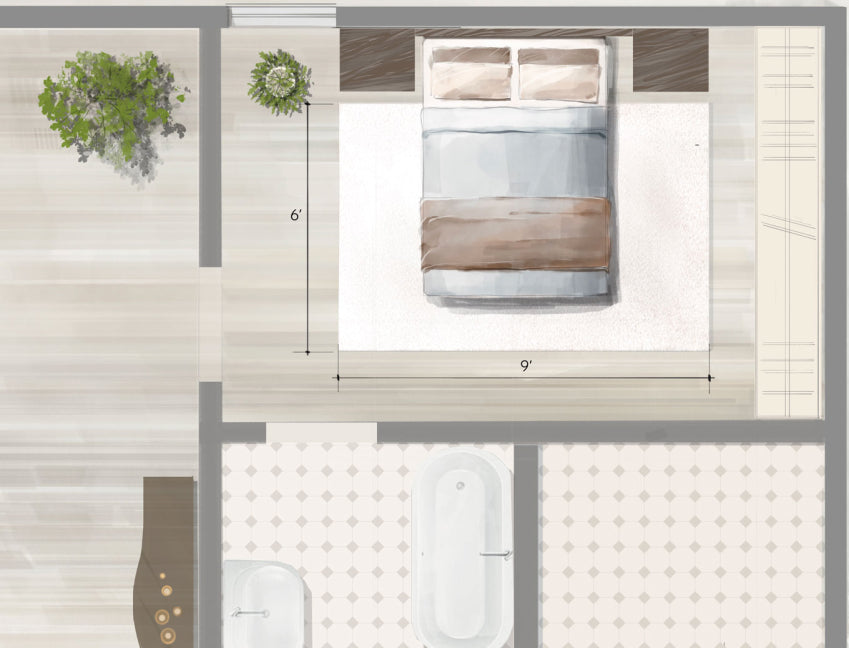 King-sized Bed:
A King sized bed is typically 6'4'x 6'8, not to be mistaken with a California King that is 6'x7'.To have a nice landing spot for your feet as you get in an out of bed we recommend two 3'x5' rugs, its ok if a bit of the rug goes under the bed.A 9x12 rug would give the bedroom a more defined look with good amount rug around the bed. A large rug of 10'x14' or larger would look best as it will give you comfortable amount of rug around the bed and typically makes the room look much larger.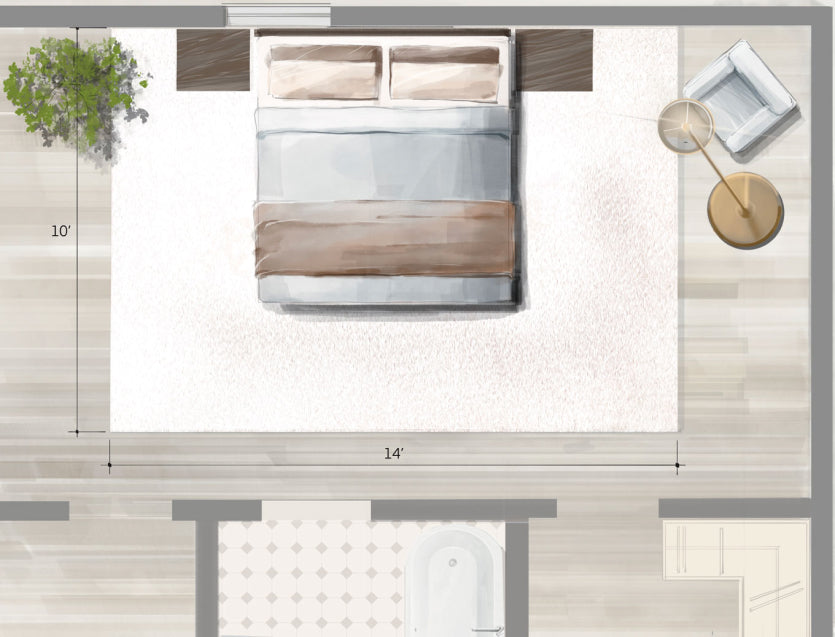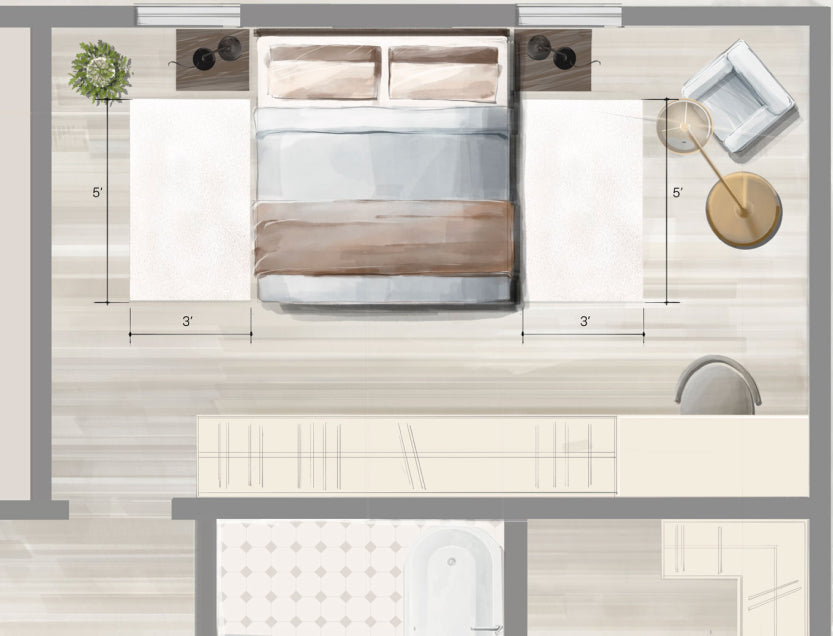 Full-sized Bed:
A full sized bed is typically 4'6'x6'3 and a twin sized bed is typically 3'2'x6'3. We generally try to maximize the bedroom for most usable space. We recommend leaving 1'-2' from the walls.If you wanted a more defined look with a centerpiece rug, we recommend a 5'x7' or 6'x9' rug for a defined look with 3'x5' rugs for the sides.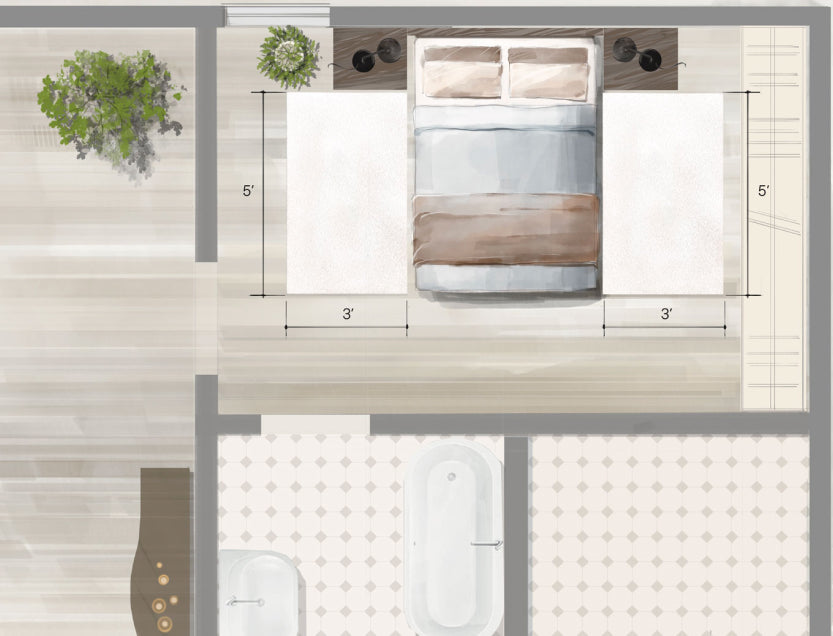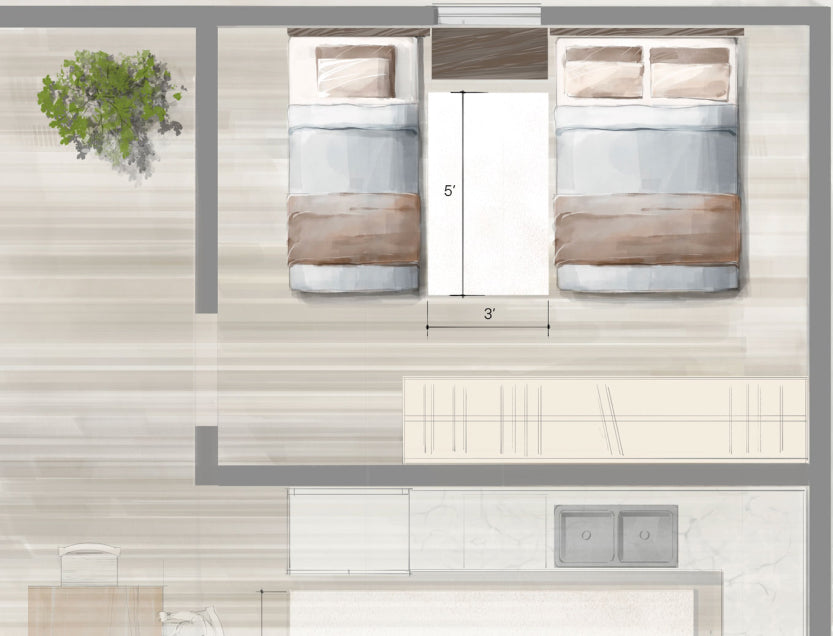 One Twin-sized Bed: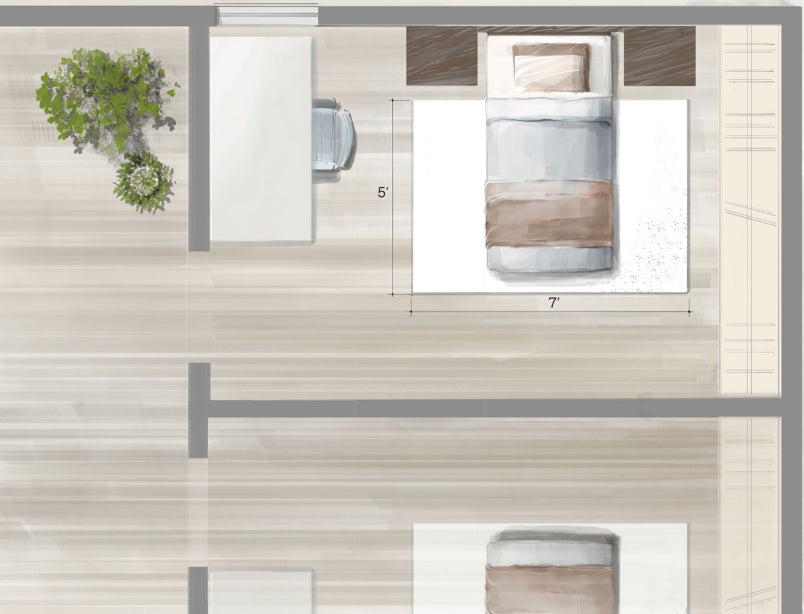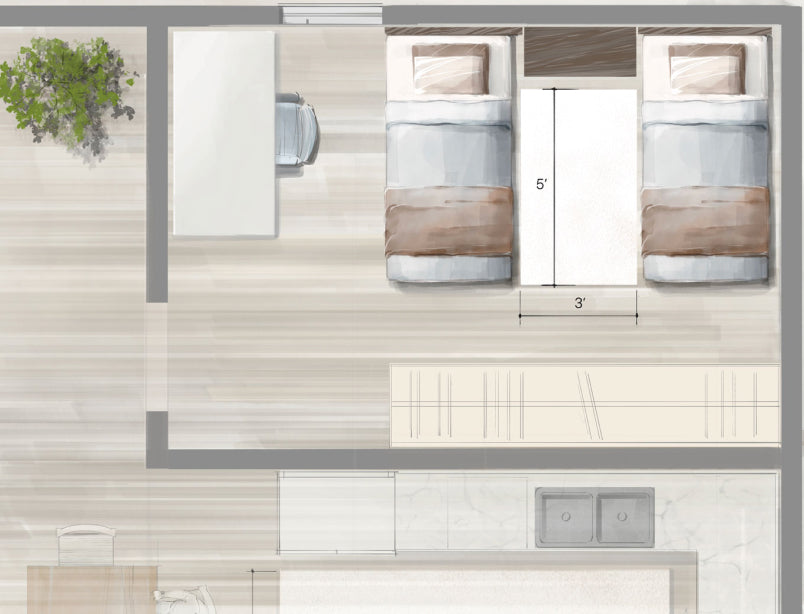 Kitchen
There are plenty of advantages to incorporating a rug into your kitchen. It's a great way to provide a pop of color to your space, and they help keep you comfortable while standing by adding cushioning underfoot. Measuring tip: If you have a galley kitchen, you would typically want to get a runner. These are usually two or three feet wide and between six to ten feet long. It's best to try to fit the space, measure the length of your galley kitchen and get a runner that is either the length or a little shorter than your galley kitchen.If you have a L-shaped kitchen, an area rug in front of the sink is an excellent choice for this type of space.
Large
Common sizes: 3x5 or 5x7 or 6x9 or 8x10 or 9x12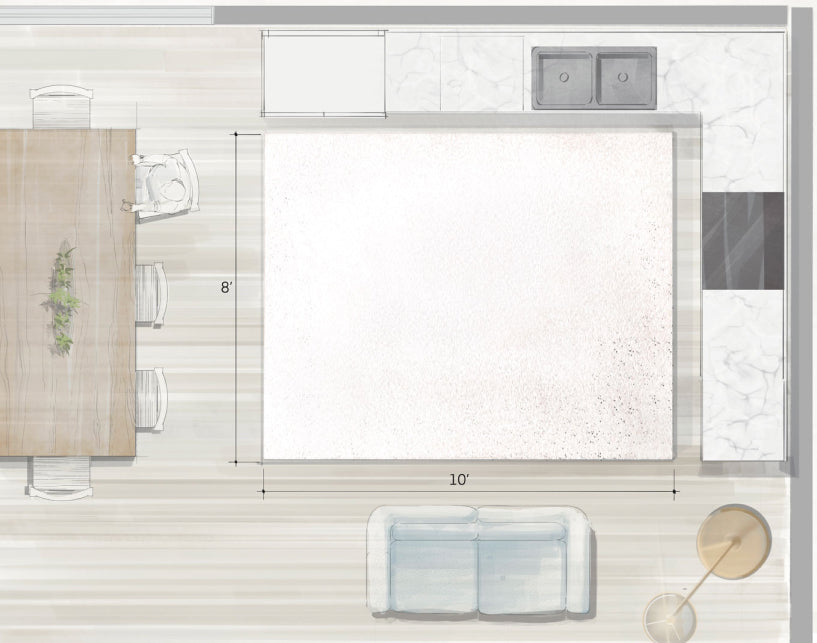 Medium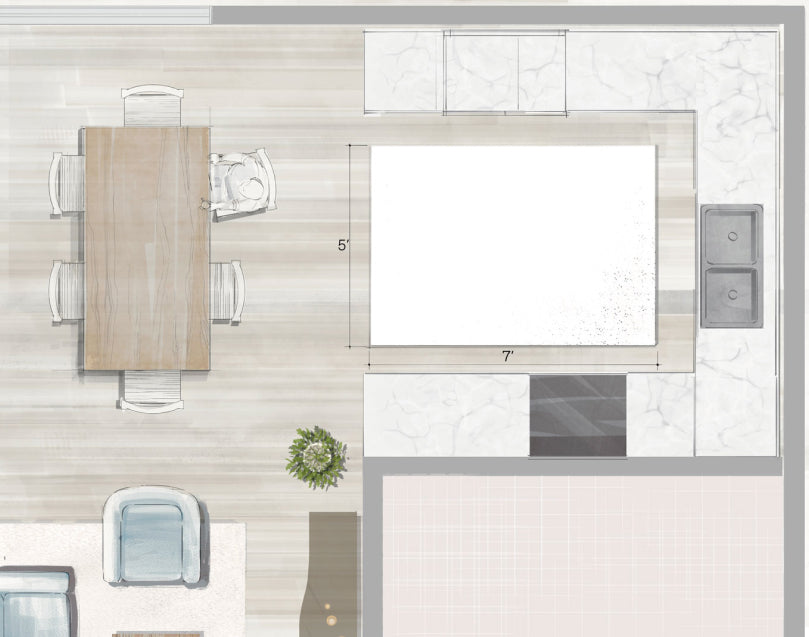 Small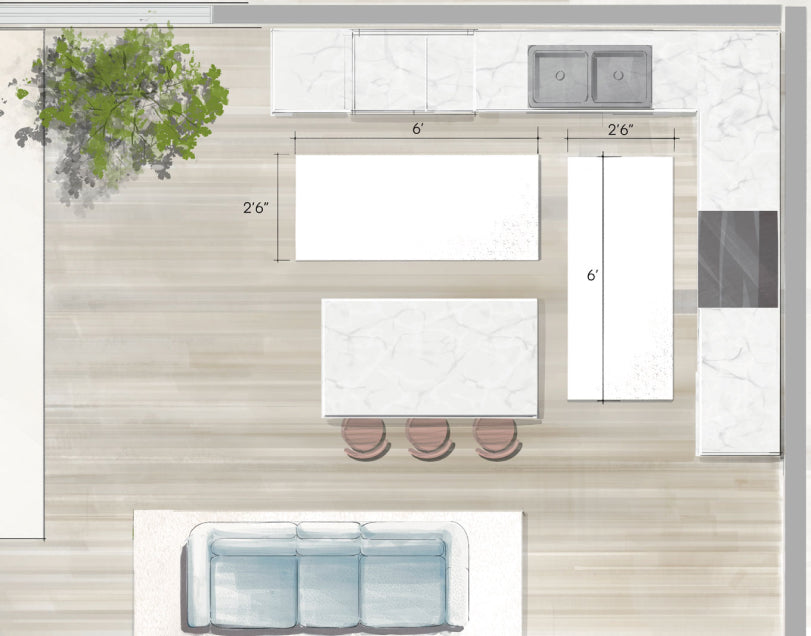 Long Layout
Common sizes: Small runners 2'-3' x 6'-8' and 3'x5' rugs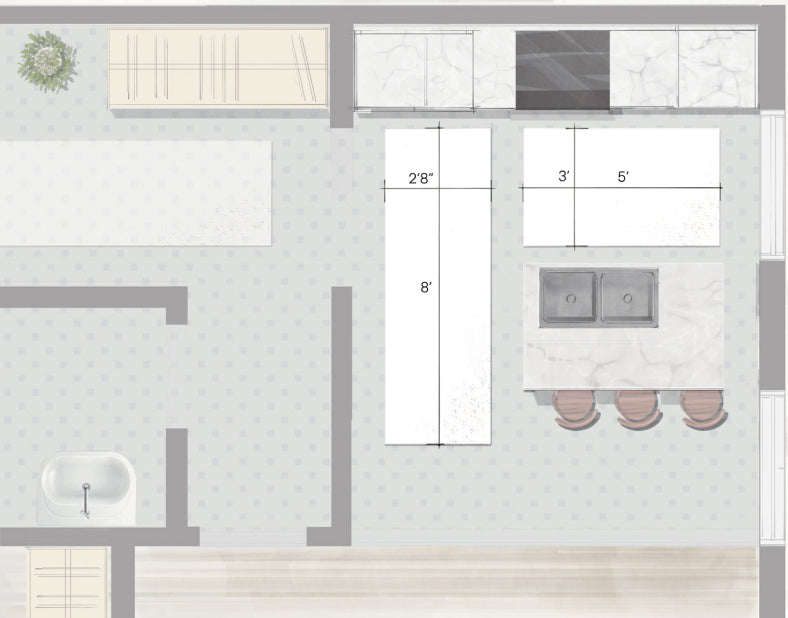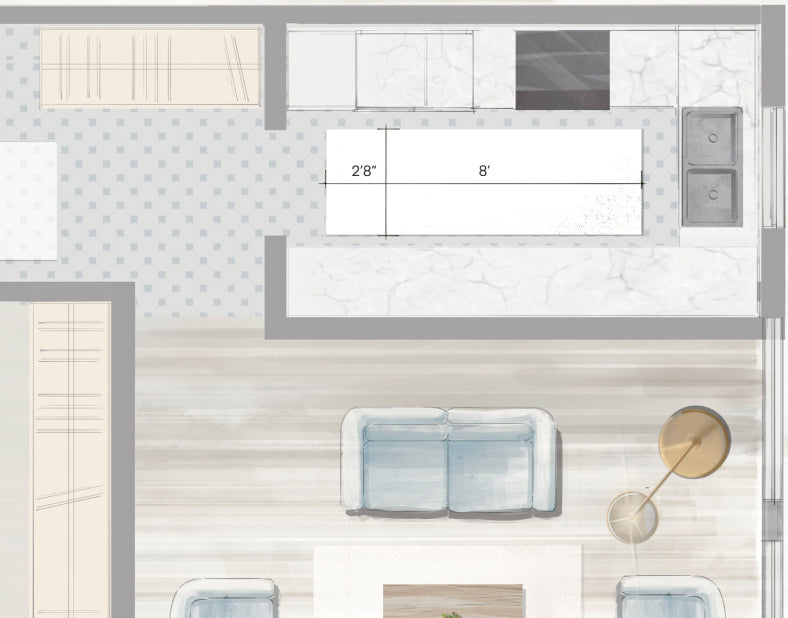 Entryway
An entryway rug can really help frame your door and give people an immediate landing.
Large
Common sizes: 3x5 or 5x7 or 6x9 or 8x10 or 9x12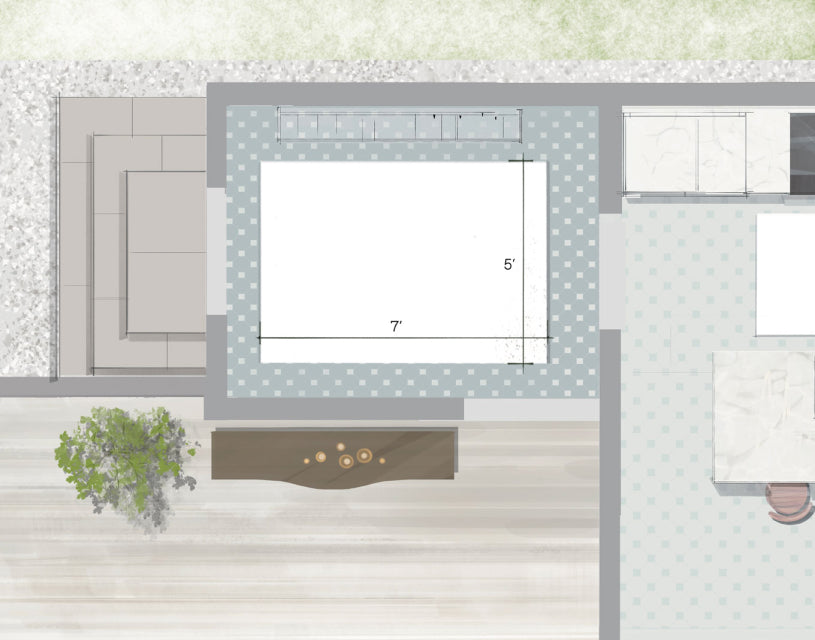 Double Doors