"Without my relatives, I am but a thread; together, we form a colorful and elaborate Persian carpet." - Firoozeh Dumas
With each of our handknotted rugs, we welcome you to the Bazaars of Persia and artisans of the Middle East and Orient. A household tradition passed down through generations, woven art predates painting and drawing.
Each handknotted rug takes a village to complete: from local shepherds to designers and dyers and finally to the weavers, who patiently pull together the threads of each rug, knot by knot.
1930
True Tradition
Rug Weaving is a household tradition which is passed down through generations, Abolfazl founded Adib's to enable people who were by trade farmers and homemakers, to elevate their craft and become full time professional artisans.
1967
A Handwoven History
To help fund his UC Berkeley education, Ray Adib begins sourcing and distributing unique, handwoven art created in his family's village in Iran to friends, colleagues and professors in California.
One professor recognizes the unparalleled quality of Ray's rugs, and suggests he turn his passion for the tradition of artisan weaves into a full-time profession.
1974
A Heritage of Humanity
Ray asks his father Abolfazl to aid him in sourcing and sharing the highest-quality, one-of-a-kind pieces direct from his Persian hometown. He opens the first Adib's Rugs showroom in Walnut Creek, California, where it remains to this day.
In doing so, Adib's begins to help skilled craftspeople in turning their passions into full-time, fairly-paid professions.
1987
A Household Tradition
As word of Adib's spreads, Ray and his brother, Dr. Hamid Adib, grow their expertise for ethically sourcing long-lasting, unique pieces.
Together, they expand their family business by opening a sister showroom in Salt Lake City, Utah.
2004
Showtime to Showroom
Adib's Salt Lake City showroom moves to The Villa: one of Utah's oldest theatres, restored to historical accuracy.
The space is curated to house Adib's most expansive handwoven collection.
Today
From our family, to yours
Today, Ray Adib, Dr. Hamid Adib, and the next generation, Medi, Hamed, Amir and Amin Adib celebrate half a century in business and manage both the original family showroom in Walnut Creek and the iconic Villa Theatre showroom in Salt Lake City.
With weavers from Iran, India, Pakistan, Turkey, China, and America now combining unique designs with traditional technique, Adib's Rugs has become one of the world's most beloved hand-woven art galleries.
Our Commitment
Adib's is a leader in the rug industry. By understanding our customers' needs we have been able to help our community discover the beauty of high-quality handwoven rugs for over 50 years. The elegance of a beautiful handwoven rug reminds us to slow down and appreciate the small intricate details and lend an air of refinement to our everyday life.
We want to help society move away from throw away culture and be a part of bringing back practical artwork that has multiple lifetime functionality. It is our hope that we can inspire you to fall in love with handwoven rugs as we have.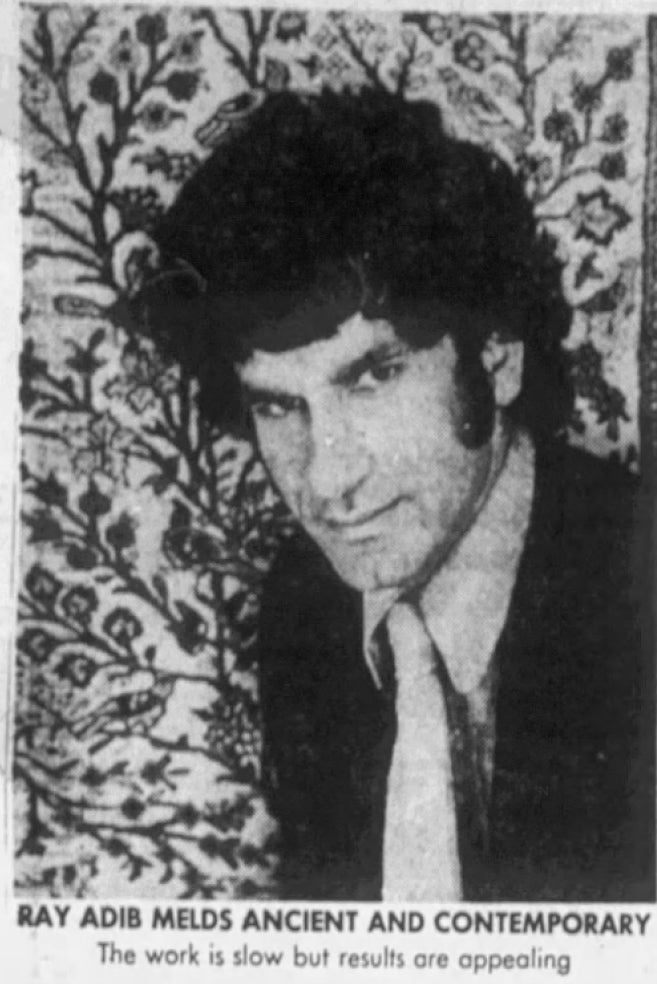 Just like family, rugs woven to last forever. To stand the test of time.
Why Our Products?

From the Source
We work directly with artisan weavers using the highest-quality wools and skills.

Bespoke Design
Our design experts collaborate with weavers to create unrivaled style and selection.
Crafted to Last
Our commitment to sustainability begins with rugs we know will withstand the test of time.
Our Philosophy
Rug Art is a living art, everchanging with innovations in each work piece. Every Handwoven rug has a concept, hidden meaning and speaks to the creator's story. It is our responsibility is to help guide our customers through a journey of discovery by revealing the beauty of this generational artform. Handwoven rugs are masterpieces that have been made for centuries and are considered a highly admired form of art. Many of our rugs are unique, one-of-a-kind masterpiece made from pure creativity, passion and unique skillsets.